SLIEPA ORGANIZES PUBLIC AND PRIVATE DIALOGUE WITH SUPPORT FROM SCADEP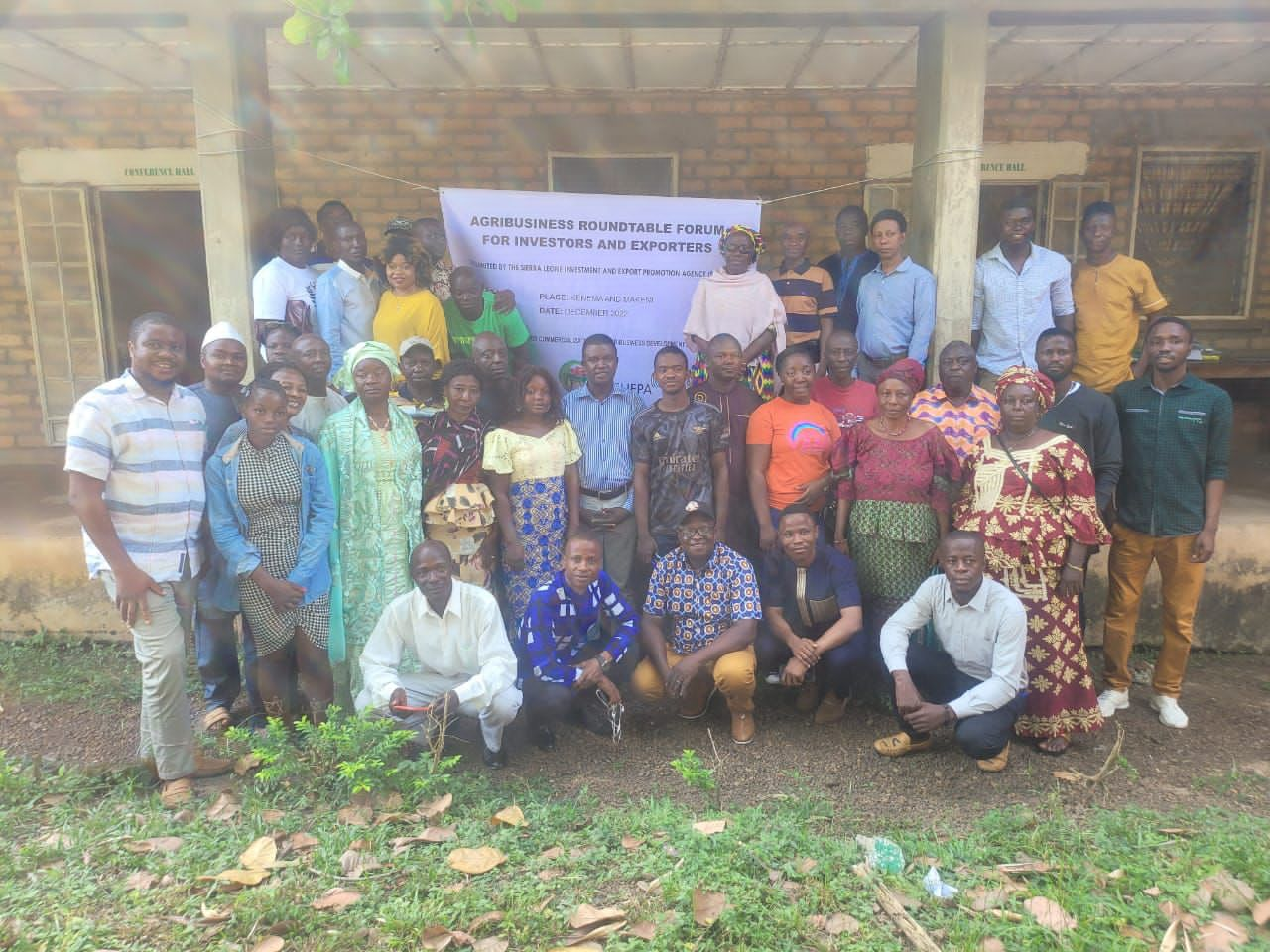 The Sierra Leone Investment and Export Promotion Agency (SLIEPA) has held a Public Private Dialogue (PPD) with investors and exporters in the South, East, North, and North-West of Sierra Leone. The events were held on the 5th and 8th of December 2022 in Kenema and Makeni Cities respectively.
According to SLIEPA, the Roundtable dialogue that was supported by the Smallholder Commercialization and Agribusiness Development Project (SCADeP), was aimed at improving the Sierra Leone business environment by Seeking advice on potential policy changes, enhancing the standard of corporate representation, enhancing communication between government and the business sector for more successful economic policies, improving legislative ideas, influencing policy priorities and taking input into account when creating regulations, looking for ways to use Public-Private Partnerships to address identified needs and determining the funding needs and skill shortages.
The Value Chain Project Officer of SCADeP, Alfred Ben Kargbo, explained that SLIEPA and their Project have always got a good working relationship as an implementing partner, saying that the objective of bringing together the public and private sectors to dialogue relevant matters was to emerge ideas that would improve the Country's business landscape to encourage more foreign and domestic investments.
The chiefdom speaker of Tambakha Simibungie, Kerene District, who was also a participant, Ibrahim Deen Yansaneh, acknowledged SLIEPA and SCADeP for giving them the opportunity to document their voices which will possibly form part of the policies or laws that will have to govern the economic sector which remains their platform as business people.
Among other things, the farmers were more concerned about policies or laws that will attract hybrid and yielding seeds, well-functional irrigation to cultivate throughout the year, adequate farming machines, female user-friendly machines, processing, packaging, branding, and marketing.
© SLIEPA: Directorate of Marketing and Communications
Visit our website: www.sliepa.gov.sl
Email: info@sliepa.gov.sl
Tell: 025332863.
More Topics
The Sierra Leone Investment and Export Promotion Agency (SLIEPA) has today 20th October 2022 Played host to the delegation of the FAIRTRADE AFRICA organization, as they discussed Collaboration and partnership.  FAIRTRADE AFRICA is an independent non-profit umbrella organization representing all FairTrade-certified producers in Africa and was established in 2005. The...
A delegation of Trade and Investment Experts comprising Government Officials and Members of the Private Sector from the Republic of Sierra Leone on Wednesday 15th June 2022 engaged private investors at the Qatar Chamber of Commerce to showcase Sierra Leone's Trade and Investment potentials and presented a list...
/media/userfiles/subsite_198/files/PUBLIC%20NOTICE_220616_083553.pdf
Follow SLIEPA on Social Media