ADB to Develop a Private Sector Policy and Strategy for Sierra Leone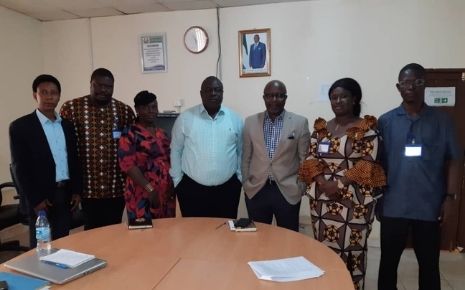 Yesterday, 21 January, 2020, Mr. Peter M. Kaindaneh, a Consultant from the Africa Development Bank (ADB), engaged the Sierra Leone Investment and Export Promotion Agency (SLIEPA) on its perspective on developing a Private Sector Policy and Strategy.
Speaking during the meeting, Mr. Kaindaneh said that he was a Private Consultant hired by ADB to develop a Private Sector Policy and Strategy. Visiting SLIEPA among other relevant stakeholders, he said, was to obtain its consideration of intricacies or entering points to develop a Private Sector Policy and Strategy to promote investment and export.
The Acting Director of Marketing and Communications, Mr. Francis Minah, who also acted as the CEO, welcomed the Consultant on behalf of the SLIEPA CEO, Mr. Sheku Lexmond Koroma and appreciated his efforts in nation building. For job creation and economic development, he encouraged Mr. Kaindaneh to note agriculture along the value chain; sighting Sierra Tropical Limited as a case study as it is involved in the cultivation of pineapple, processing and marketing the juice. He also talked about image building and the launch of a web based portal where investors can access information about investing in Sierra Leone.
Also, Mr. Bobson Margai, Acting Director of Export Development, advised that the strategy looks at mapping out youths within the employment age bracket and encouraging Ministries, Departments and Agencies to embark on youth development projects such as the Youth in Fishing Project. In addition, the Manager of Export Development, Mr. Henry Fofanah, recommended diversification of the economy from depending on mineral exploration to agro-based industries, tourism, marine fisheries etc. He said investors should be encouraged to focus on such sectors as good drivers for economic development.
Recommendation from Mr. Hardy Jalloh, the investment Promotion Manager, looked at the investment landscape and the engagement of private sector players to understand their challenges and recommendations. He noted that attracting investors, the country should look at targeted investment opportunities to leverage targeted investment promotion across the globe. He also counted on investors' testimonial as very influential.
Thanking SLIEPA for the meaningful contributions Mr. Kaindaneh proposed for subsequent meetings.
More Topics
Digvijay Industries yesterday, 15th January 2020, engaged the Sierra Leone Investment and Export Promotion Agency (SLIEPA) on fact-finding in relation with investment opportunities in electrical transformer. Digvijay Industries is an Indian based industry  that  was  established in the year 2000 as a small manufacturing business firm which has presently...
Follow SLIEPA on Social Media