Aquila Engages SLIEPA With Its Desire to Invest in the Mining and Aviation Industries
The Managing Director of Aquila, Dr. Abdul S. Kamara, on the 2nd June, 2020, met with the CEO and a cross section of Directors of the Sierra Leone Investment and Export Promotion Agency (SLIEPA) to discuss their interest in investing $ 4 billion in the Mining and Transportation (Aviation) Sectors.
When making his statement, Dr. Kamara commended SLIEPA for its facilitating role. He said, Aquila is a registered Company in Sierra Leone and it has established a joint venture with other companies to the achievement of successful implementation of the project in Sierra Leone.
On that note, Dr. Kamara, made a kind request on SLIEPA to advise them on compliance and best policies on regulatory and legal framework in a bid to protect their investment.
With open hands, the CEO of SLIEPA, Mr. Sheku Lexmond Koroma, welcomed the visitors and appreciated their confidence reposed in SLIEPA. Mr. Koroma noted that such a huge investment will create job for Sierra Leoneans and at the same time make significant contribution to the country's economy. He told Dr. Kamara that compliance to due process has to start with due diligence (background check) on the company as per SLIEPA procedure to determine genuine investors. Hence, that background check has a positive outcome, he said, SLIEPA will guide them through the due process leading to implementation.
The Acting Director of Investment Promotion, Mr. Victor Bangura, explained some of the procedures involved in establishing investments of such nature and as well noted the Government's interest in the general business registration with the Cooperate Affairs Commission and as well as with the line Ministries, Departments and Agencies (MDAs); saying that the Government encourages investors to embrace Local partnership to create job for its people.
Furthermore, the Acting Director of Marketing and Communications, Mr. Francis Minah, joined the CEO to welcome the guests and assure them of SLIEPA support to the achievement of their investment. He said, the beauty about the investment is that Aquila has already secured the funding which has the propensity for an accelerating implementation. Mr. Minah, noted that SLIEPA will play its own part owning to its mandate.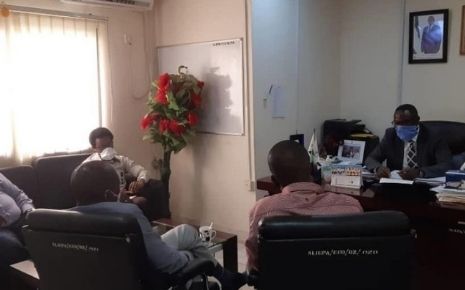 Follow SLIEPA on Social Media